Rose And Honey Moisturizer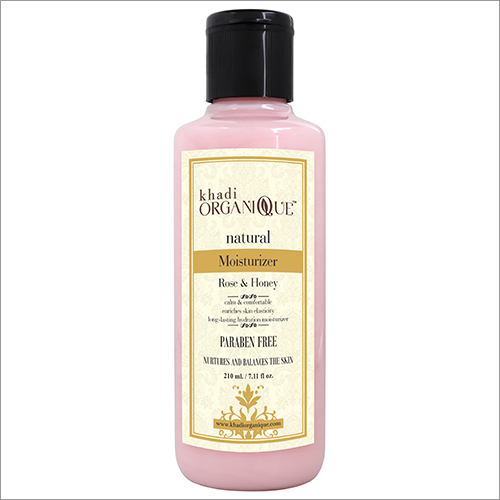 Rose And Honey Moisturizer
Product Description
Rose And Honey Mosturizer
This Paraben free Khadi Organique moisturizer which is the perfect amalgmation of 100% natural, pure and effective ingredients from glycerin, purified water to different mineral and essential oils. As it penetrates deeper into the pores of the skin, it deeply nourishes and moisturizes it along with effectively working on blemishes and dark spots. It gives one a lighter tone and makes the skin look glowing and radiant. It gives a soft and smooth texture to the skin and should be used every day for better results.
Rose And Honey Mosturizer Benefits
Offered Khadi Organique Rose & Honey Moisturizer is a Paraben free skin care product which is free from chemical preservatives, does not have any side effects on the skin. It effectively gives an evenly tone, glowing and radiant skin, as it finely removes dead skin cells. This skin care moisturizer makes your skin look younger and healthy; it provides proper nourishment and moisture to the skin and effectively removes the sign of aging. It is especially prepared to get a soft and smooth skin.
Technical specification
SIZE-210 ML
BY CONCERNS-Soft and Smooth
INGREDIENTS-Rose Oil, Honey Almond Oil, Wheat gram Oil, Jojoba Oil, Alovera, Glycerin,Purified Water & Mineral Oil.
SKIN/HAIR TYPE-For All Skin Types
INSTRUTION OF USE-Take an adequate amount of this Moisturizer onto your palm. Gently apply on your body. Can be used every day.
BAR CODE-'8906094121022
PRODUCT CODE-KO 1194
category-Skin care > Moisturizer
PRICE-175
QUANTITY-500